(Primary) Research Manager
Description
In the world of retail things happen fast, especially at Shop Direct. We're transforming at an unprecedented rate, becoming a truly world class digital retailer. Ensuring we make our customers aware of products that are relevant to them is really important to us and we know its really important to our customer. Its central to our strategy and why we're looking to attract the very best talent we can and build on our already impressive team.

Join the multi award winning company behind exciting brands such as Very.co.uk, Very Exclusive and Littlewoods.com, and help us on our journey to becoming a world class digital retailer.
ABOUT US
We're the UK's second largest pureplay online retailer and we exist for one simple reason; to make good things easily accessible to more people. It's our purpose, why we get out of bed in the morning.
Today, we turnover more than £1.9bn, our websites get over 1.2m visits every day and 62% of our online sales are from mobile devices. We sell over 1,300 famous brands and deliver 49 million products to over four million customers each year.
We've got a clear goal. It's to become a world class digital retailer. We're already well on the way and, by staying true to our purpose, we believe we'll achieve our ambition.
ABOUT THE ROLE
We're looking for top class talent to join our fast paced Market Intelligence and Research team to support us on our journey to becoming a world class digital retailer.
The main purpose of the Primary Research team:
To ensure the voice of the customer informs Shop Direct's strategy and key business decisions.
To design, manage and deliver customer-oriented primary research projects which to inform the business strategy and support the business to deliver against this strategy.
We want someone who can unlock the true insight and make clear and compelling recommendations – and in way that's simple, story lead and engaging.
You must be highly motivated and have excellent stakeholder skills so that you can engage confidently with across many different areas of the business sometimes at all levels, and with our agencies too. You will also be a highly numerate and commercially focused individual with a genuine passion for making recommendations that can make things happen.
Requirements
Key Responsibilities:
Being the voice of the customer throughout the business both proactively and in response to specific questions. Doing this by using existing knowledge and insight and / or commissioning new primary research.
Working both independently and alongside other members of the Primary Research team to deliver primary research projects.
Ownership of all project management related to customer research projects – this includes writing a project brief, engaging with third party agencies and contracting them as suppliers, managing project timeframes, questionnaire design and review, briefing customer selections, planning and phasing research, reviewing and inputting into key insights and recommendations.
Taking ownership for the output of any customer research to ensure that all recommendations are robust and supported by insight and that all deliverables are rigorous, engaging and actionable.
Working with other members of the Analytics & Research team, and wider Data Intelligence community to collaboratively bring together knowledge and insight about the customer.
Manage ongoing relationships with external agencies to ensure timeliness and cost efficiency across project scoping, agency selection, agency fees, and agency deliverables. As part of this process, also ensure that all interactions with customers and agencies follow GDPR.
Build and maintain strong internal relationships within Shop Direct
Key Relationships:
This role requires effective working relationships with:
Other members of the Primary Research
The Analytics & Research team
The Strategy team
External market research agencies
Finance, Legal and Customer Management teams
The Exec Board and GLT
Key Decisions:
Providing expertise on projects to ensure the most appropriate research methodology and processes are used to most effectively answer key customer questions
Leveraging existing research and insight to answer business questions

Essential Knowledge skills and Qualifications
Recent primary research experience within a client side or agency context
Excellent research methodology skill set – including understanding of MRS methodology and current best practice for customer research
Strong analytical skills – in particular being able to identify and prioritise the key questions within new and existing projects
Ability to think beyond current knowledge and develop new solutions and insights
Intermediate Excel and data manipulation skills
Intermediate PowerPoint skills
Proven project management experience
Strong project management and delivery mindset applied to all projects – including cost and time planning, managing stakeholder expectations and ensuring efficient working practices with third party research providers
Very high level of attention to detail
Proven track record on ensuring projects are run to optimise the insight delivered within the agreed time frame and budget
Confident communicator
Ability to liaise effectively with internal stakeholders and external suppliers
Excellent written and verbal presentation skills
Ability to challenge internal stakeholders on the business case for undertaking research projects
Self-starter, with strong interpersonal skills and ability to work well as part of a team
Ability to gel and work closely with the other Research Managers and support them on projects on an ad-hoc basis
Can do and diligent approach to work
Ability to listen actively and challenge where appropriate
Ability to work well under pressure and prioritise own workload appropriately
Understanding of how Shop Direct operates & the wider market context
In particular the combination of retail and financial services.
This should be supported by strong insight into wider economy, market and customer trends
Passion for our customer and for the Retail and Financial Services sectors
Benefits
BENEFITS:
Annual Bonus
30 days holiday + bank holidays + option to buy or sell an additional 5 days
Matching Pension up to 6%
Brand Discount up to 25%
Speke - onsite gym, Costa Coffee, on site cafeteria
HOW TO APPLY
This is a fantastic opportunity for an experienced Research Manager/Executive who is looking for their next career move. If you are interested to find out more please contact the [email protected] at Shop Direct or apply online.
Please note that the Talent Acquisition team at Shop Direct is managing this vacancy directly and will not be accepting CVs sent by any recruitment agencies
Please be advised, if successful in securing this position, you may be required to undertake a credit, CIFAS and CRB check
If you are a current employee of Shop Direct please apply via Talent Online as an internal applicant.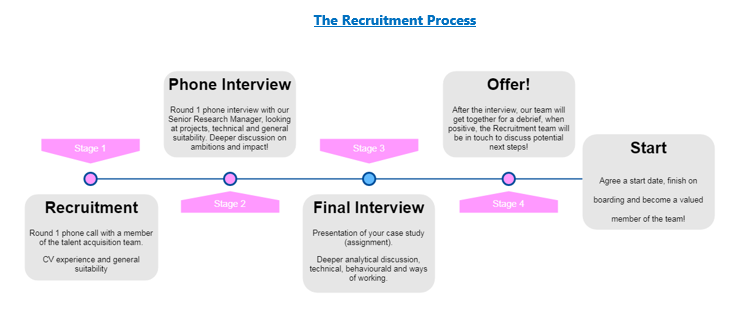 Upload your photo
Please provide an image in PNG, JPG or JPEG format.